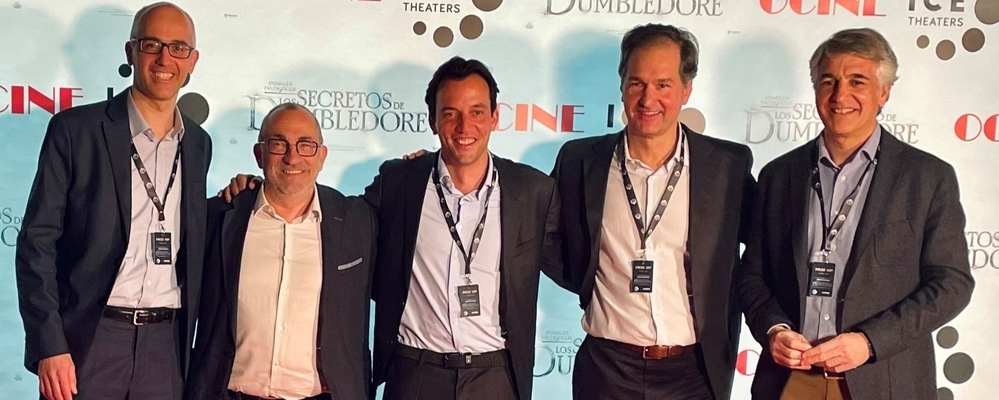 ICE THEATERS®'S IMMERSIVE CINEMA EXPERIENCE DEBUTS IN BRAND-NEW MARKET
FOLLOWING PARTNERSHIP WITH SPANISH EXHIBITOR OCINE
April 8th, 2022
ICE THEATERS®, the market's leading immersive and high-end theater screen format created by French exhibitor CGR CINEMAS, is delighted to announce its first premium auditorium in Spain is opening today at OCINE Granollers, in the suburbs of Barcelona.
On that occasion, the teams of ICE THEATERS and OCINE hosted a grand opening event at OCINE Granollers yesterday evening, on April 7th, alongside their major partners, loyal customers and local film distributors, to have them experience the ICE Immersive technology in their brand-new premium theatre, premiering the highly anticipated FANTASTIC BEASTS: THE SECRETS OF DUMBLEDORE.
ICE THEATERS® combines state-of-the-art sound and image technologies, refined design, and the leading-edge ICE IMMERSIVE® visual experience. Thanks to non-reflecting LED panels on each side of the auditorium that target the moviegoer's peripheral vision, the ICE IMMERSIVE® technology offers a unique panoramic experience and immerses the audience into the heart of the story from the start to the end of the movie. After witnessing the Premium Large Format winning over the moviegoers and dominating box office in France, the United States and the Kingdom of Saudi Arabia, OCINE is delighted to be Spain's first exhibitor to bring the innovative format to the Spanish market.
Esteve Agustí, Chief Executive Officer at OCINE, declared: "OCINE is delighted to be collaborating with CGR CINEMAS and to be welcoming in Granollers the first premium ICE THEATERS® auditorium of our circuit. We were completely awestruck by the ICE experience as soon as we stepped into an ICE theater, conjoining first-rate sound and image technologies and outstanding comfort, so it is safe to say that we are thrilled to finally allow our moviegoers to benefit from this unique immersive experience. We are convinced it will take their breath away, just like it took ours."
Jocelyn Bouyssy, Managing Director at ICE THEATERS®, added: "It is with great excitement that we start this new partnership with renowned exhibitor OCINE, who are always on the lookout for the latest innovations and aiming at offering the best cinematic experiences to their customers. Our ambition is to take the moviegoers out of their homes to experience something they cannot come across anywhere other than in a movie theater, and we are delighted that OCINE trust the ICE THEATERS® format to do so."
ICE THEATERS® and OCINE struck a deal in autumn 2021 for the opening of two ICE auditoriums. Following the inauguration of the Granollers location, the second auditorium is to open later this year, in a location yet to be announced.
ICE THEATERS® is proud of its partnership with all Hollywood Major Studios who have trusted the immersive premium large format in 2022 with their most anticipated titles, including Warner Bros's THE BATMAN, FANTASTIC BEASTS: THE SECRETS OF DUMBLEDORE, Sony Pictures's UNCHARTED, MORBIUS, Paramount Pictures's SCREAM, SONIC THE HEDGEHOG 2, Lionsgate's MOONFALL and Universal Studios's AMBULANCE. More upcoming titles include Walt Disney Studios's DOCTOR STRANGE IN THE MULTIVERSE OF MADNESS, Paramount Pictures's TOP GUN: MAVERICK and many more exclusive titles to be announced later this year.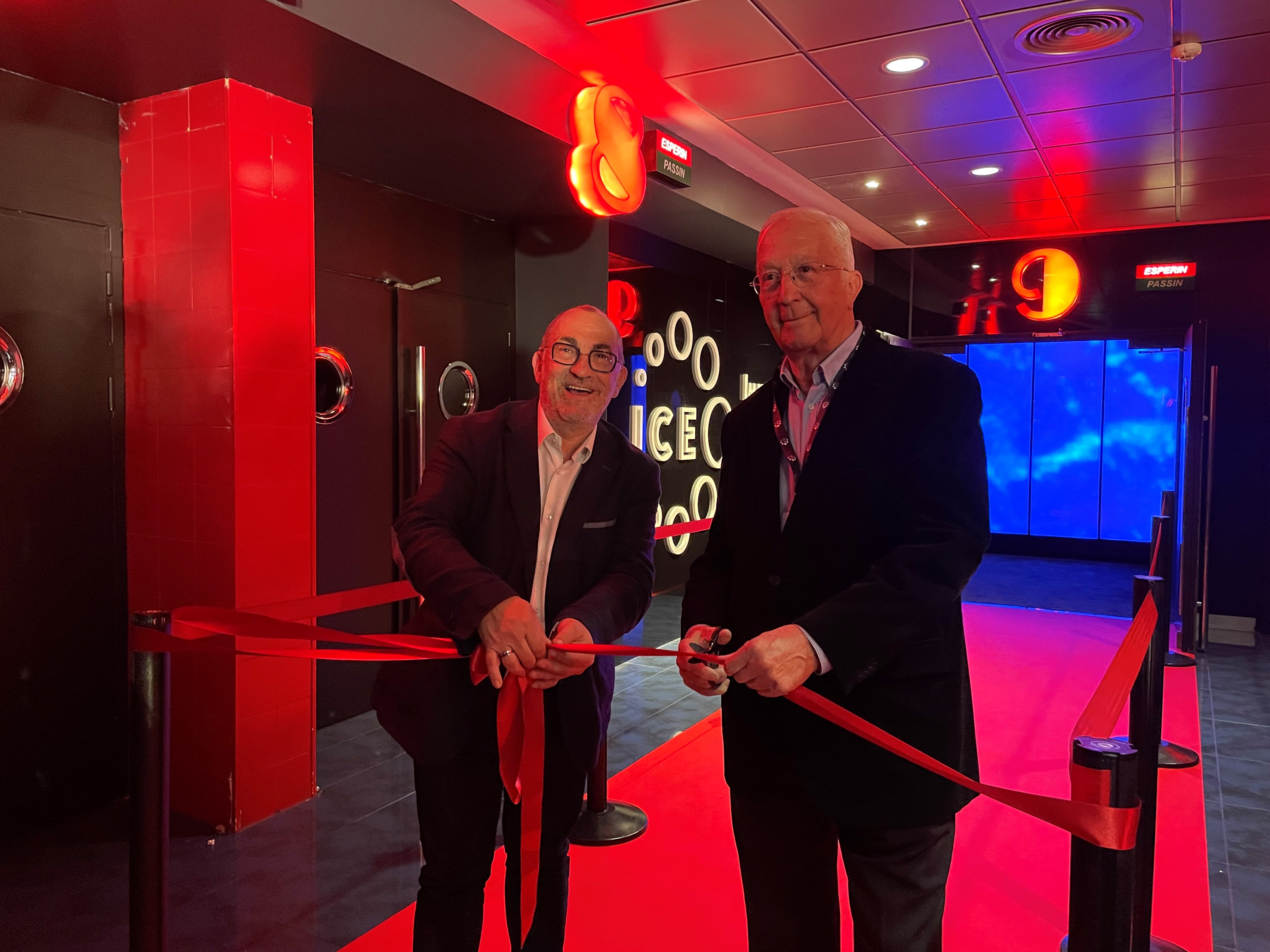 About ICE THEATERS®
ICE THEATERS®, a CGR CINEMAS company, has developed a premium unique experience to immerse the moviegoers with visual immersive format, exclusively designed to enhance the movie-theater experience.
ICE THEATERS® auditorium combines state-of-the-art design, excellence in immersive sound and in 4K Laser projection technologies, as well as the revolutionary ICE IMMERSIVE© technology with LED panels on the side walls. The format now operates in France, the United States, the Kingdom of Saudi Arabia and Spain, across 47 theaters.
For the past 5 years, ICE THEATERS® has worked closely with all Major Studios and many independent distributors to develop a robust and intensive post-production service, releasing over 100 blockbusters worldwide.
In collaboration with the R&D and Technology team, ICE THEATERS® have set up one of the most simple and secure process to allow the creation of the ICE format ahead of each movie release and ensure its delivery on time for the release date.
ICE THEATERS® provides its clients, the exhibitors, a global services solution that has made its success in France by bringing, in each required domain, a dedicated team of experts:
Construction & Design Team: over 30 years of experience at the exhibitors's service

Software & Engineering Team: 15 years of experience & leader in the French PoS market and dedicated centralized TMS

IT ops & Content Delivery Team: provider of centralized and remote services operated daily over 73 cinemas since 2007

The ICE Club: a dedicated marketing team in charge of brand marketing, designing, and providing communication support onsite and online (digital signage, posters, trailers, etc.) for each movie released in ICE Immersive®.
More information on www.icetheaters.com
Follow us on:
https://www.linkedin.com/company/ice-theaters
About CGR CINEMAS
CGR Cinemas, with over 30 years of experience in theatrical exhibition, currently operating over 700 screens among 71 cinemas, is the second largest French exhibitor in terms of number of locations across the country and has extended its activities to Hotels & Restaurant Markets.
CGR Cinemas has also launched a European and French film distributor, Apollo Films, dedicated to the French market's theatrical titles. Pioneer in technology, CGR Cinemas was the first cinema chain in Europe to become 100 per cent digitally equipped. Today, CGR Cinemas is the leading cinema circuit in Europe for premium experience theaters with 42 operative VIP auditoriums. CGR Cinemas welcomes over 27 million moviegoers a year and counts over 2,000 employees.
In regards to the Hotels market, its subsidiary CLR Hôtels has acquired 17 hotels and developed its activities with strong partnership with many brands including AccorHotels, Louvre Hotels, Best Western, M Gallery, Ibis, best Western and Kyriad. CLR Hôtels also own 5 restaurants including Gaya, by famous gastronomic Chef Pierre Gagnaire, 2 luxury spas including Nuxe Spa, and a premium thalassotherapy complex at Châtelaillon-Plage.
More information on www.cgrcinemas.fr
About OCINE
With over 75 years of experience in theatrical exhibition, OCINE is the 3rd largest exhibitor in Spain, welcoming over 5 million moviegoers per year. As a forerunner to bring more sensorial experiences in theaters, OCINE inaugurated the first Dolby Atmos® auditorium in Spain in 2011, and, to this date, counts up to 25 Dolby Atmos® auditoriums. The priority they gave to increasing the comfort and the experience for the audience put OCINE at the forefront of the Spanish theatrical exhibition industry, which holds the world's largest ScreenX auditorium worldwide in its OCINE Magic Badalona, Cataluña. With over 31,000 seats in 22 locations, OCINE now operates 204 silver screens in Spain, and recently added 3 locations in France, summing 22 screens under the brand "Monciné". The constant search for new technologies and innovation, the comfort of its selected auditorium with recliner VIP seats and, finally, unsurpassed service quality, mark the DNA of OCINE. 
More information on www.ocine.es