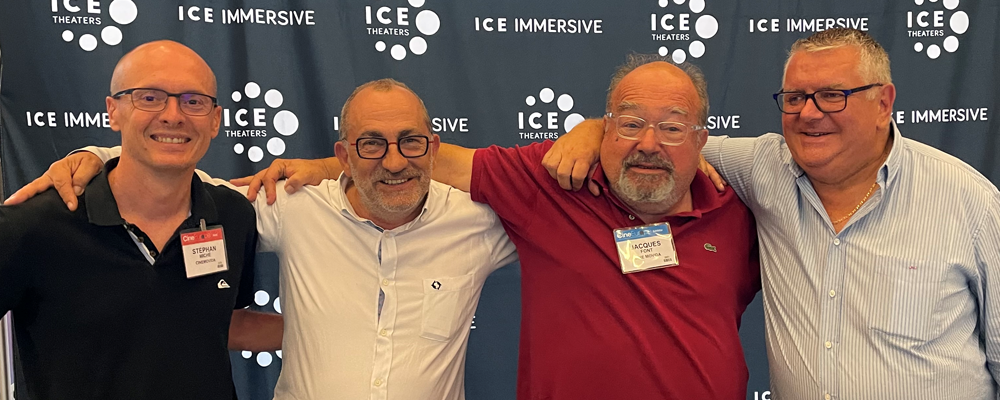 June 22, 2022 - Barcelona
ICE THEATERS®, the leading French premium and immersive theaters created by CGR Cinemas, is delighted to announce its agreement with Cinémovida Megacastillet for the opening of a premium ICE THEATERS® in Perpignan, in fall 2022.
ICE THEATERS®, combines the state-of-the-art projection, sound, design, comfort and visual experience with the ICE IMMERSIVE® technology. Thanks to the side LED panels that address the viewer's peripheral vision, this technology provides a unique panoramic experience and immerses the audience into the movie. After the success of the premium ICE THEATERS® in France and around the world, the expansion of the premium format was an obvious choice in France, as was the partnership with Cinémovida.
Jacques FONT, CEO of Cinémovida - Mégacastillet, declared: "We wished to offer our moviegoers a complementary offer to enable them to discover the greatest movies in optimal conditions. We were won over by the immersive experience that reveals the splendor of the greatest films without ever distracting the cinemagoers. With the attraction of the premium ICE THEATERS®, and the stunning line-up, we look forward to welcoming this premium offering in our theater."
Jocelyn Bouyssy, CEO of ICE THEATERS®, added: "Our group is very pleased to conclude this agreement with Cinémovida for a fall opening. After Regal L.A. Live in the United States, VOX Cinemas in Saudi Arabia, OCINE in Spain, the 43 French ICE THEATERS® as well as PVR in India announced yesterday, it is a great honor to draw this new partnership in France. The ICE THEATERS® premium cinema has been continuously boosting the box office thanks to its line-up and the audience shows us every day and in the different circuits that the premium offer is a key to make them (re)come to the cinema".
ICE THEATERS® is extremely proud of its partnership with Hollywood's studios, who are supporting the immersive experience in 2022 with their most anticipated films, including LIGHTYEAR, THOR: LOVE AND THUNDER (The Walt Disney Company), MINIONS: THE RISE OF GRU (Universal Pictures), BULLET TRAIN (Sony Pictures), ELVIS (Warner Bros.), and more to come this year