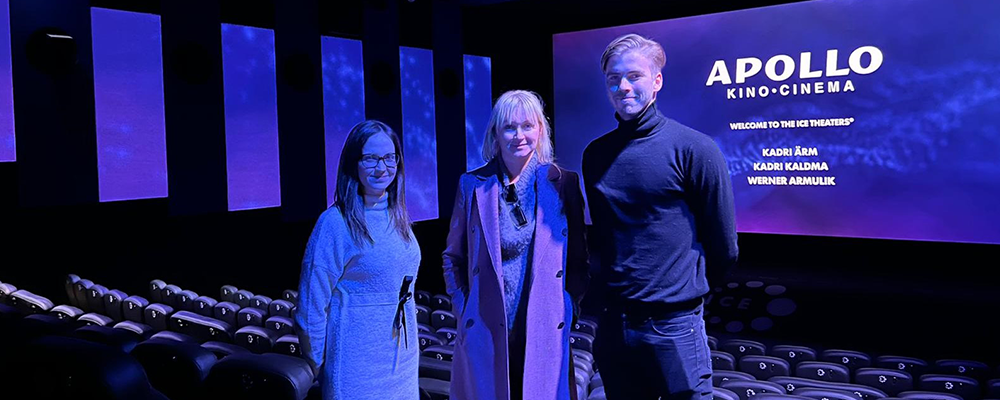 The market's most immersive and high-end theater screen format ICE THEATERS® is pleased to announce its brand-new partnership with APOLLO CINEMA, Baltic's largest exhibitor, operating 81 screens over 16 locations in Estonia, Latvia and Lithuania, with the opening of the territory's very first immersive premium auditorium scheduled mid-August 2022, in Tallinn, at Apollo Cinema Solaris.
ICE THEATERS®, created by French exhibitor CGR CINEMAS, combines premium design and state-of-the-art sound and image technologies. By featuring non-reflecting LED panels that target the moviegoer's peripheral vision from the very start to the end of the movie, the cutting-edge ICE IMMERSIVE® visual experience continues to meet the ever-growing demand from audiences for immersive theatrical experiences. After contemplating the success of the immersive Premium Large Format in the United States, France, Saudi Arabia and more recently in Spain, APOLLO CINEMA is proud to be the first exhibitor to bring the innovative format to the Estonian market.
Kadri Ärm, Chief Executive Officer at APOLLO CINEMA, declared: "It is with great excitement that we announce the launch of the first ICE THEATERS® auditorium in Estonia, in one of our most prestigious locations, at Apollo Cinema Solaris, in the capital city of Tallinn. We always want to offer our most demanding customers an innovative experience and, after being on the lookout on the different formats, ICE THEATERS® immediately caught our attention at last year's edition of CineEurope with their immersive experience. We experienced it in Paris, and not only does ICE THEATERS® provide exceptional technologies taking the immersion to another level, but it perfectly meets our needs as an exhibitor in terms of business model".
Jocelyn Bouyssy, Managing Director at ICE THEATERS®, added: "ICE THEATERS is very proud to be collaborating with Estonian leading exhibitor APOLLO CINEMA, who share our ambition to offer their audience a unique and memorable immersive cinema experience, one that can only be shared at a movie theatre. Following our constant expansion in France, USA with Regal L.A Live, to Saudi Arabia with VOX Cinemas and to Spain with OCINE; consequently, now counting 47 ICE THEATERS worldwide; acquiring yet another renowned exhibitor's trust towards our immersive format to win over their moviegoers marks another fantastic milestone for ICE Theaters®".
ICE THEATERS® is proud to be working alongside all Hollywood Major Studios who have trusted the immersive premium large format since its launch with their most anticipated titles, including, this year, Warner Bros's THE BATMAN, FANTASTIC BEASTS: THE SECRETS OF DUMBLEDORE, Sony Pictures's UNCHARTED, MORBIUS, Paramount Pictures's SCREAM, SONIC THE HEDGEHOG 2, Lionsgate's MOONFALL and Universal Studios's AMBULANCE. More upcoming titles include Walt Disney Studios's DOCTOR STRANGE IN THE MULTIVERSE OF MADNESS, Paramount Pictures's TOP GUN: MAVERICK, Universal Pictures's JURASSIC WORLD DOMINION and many more exclusive titles to be announced later this year.
About ICE THEATERS®
ICE THEATERS®, a CGR CINEMAS company, has developed a premium unique experience to immerse the moviegoers with visual immersive format, exclusively designed to enhance the movie-theater experience.
ICE THEATERS® auditorium combines state-of-the-art design, excellence in immersive sound and in 4K Laser projection technologies, as well as the revolutionary ICE IMMERSIVE© technology with LED panels on the side walls. The format now operates in France, the United States, the Kingdom of Saudi Arabia and Spain, across 47 theaters.
For the past 5 years, ICE THEATERS® has worked closely with all Major Studios and many independent distributors to develop a robust and intensive post-production service, releasing over 100 blockbusters worldwide.
In collaboration with the R&D and Technology team, ICE THEATERS® have set up one of the most simple and secure process to allow the creation of the ICE format ahead of each movie release and ensure its delivery on time for the release date.
ICE THEATERS® provides its clients, the exhibitors, a global services solution that has made its success in France by bringing, in each required domain, a dedicated team of experts:
Construction & Design Team: over 30 years of experience at the exhibitor's service

Software & Engineering Team: 15 years of experience & leader in the French PoS market and dedicated centralized TMS

IT ops & Content Delivery Team: provider of centralized and remote services operated daily over 73 cinemas since 2007

The ICE Club: a dedicated marketing team in charge of brand marketing, designing, and providing communication support onsite and online (digital signage, posters, trailers, etc.) for each movie released in ICE Immersive®.
Follow us on: https://www.linkedin.com/company/ice-theaters
About CGR CINEMAS
CGR Cinemas, with over 30 years of experience in theatrical exhibition, currently operating over 700 screens among 71 cinemas, is the second largest French exhibitor in terms of number of locations across the country and has extended its activities to Hotels & Restaurant Markets.
CGR Cinemas has also launched a European and French film distributor, Apollo Films, dedicated to the French market's theatrical titles. Pioneer in technology, CGR Cinemas was the first cinema chain in Europe to become 100 per cent digitally equipped. Today, CGR Cinemas is the leading cinema circuit in Europe for premium experience theaters with 42 operative VIP auditoriums. CGR Cinemas welcomes over 27 million moviegoers a year and counts over 2,000 employees.
In regards to the Hotels market, its subsidiary CLR Hôtels has acquired 17 hotels and developed its activities with strong partnership with many brands including AccorHotels, Louvre Hotels, Best Western, M Gallery, Ibis, best Western and Kyriad. CLR Hôtels also own 5 restaurants including Gaya, by famous gastronomic Chef Pierre Gagnaire, 2 luxury spas including Nuxe Spa, and a premium thalassotherapy complex at Châtelaillon-Plage.
More information on www.cgrcinemas.fr
About APOLLO CINEMA
APOLLO CINEMA is the Baltic's largest exhibitor, operating 81 screens over 16 locations in Estonia, Latvia and Lithuania. The mission of the Apollo brand is to be the largest and most modern entertainment provider in the Baltics. The Apollo Group includes Apollo Cinema, Apollo Books Stores, Blender Juice Bars, Ice-Café Ice Cream Parlors, O'Leary's Sports and Entertainment Center, Vapiano Restaurants and KFC, a world-famous fast food chain.
More information on www.apollokino.ee or https://apollogroup.ee/en/