Epic
PG
for mild action, some scary images and brief rude language

Beyonce Knowles , Colin Farrell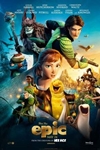 "Epic" tells the story of an ongoing battle deep in the forest between the forces of good and the forces of evil. When a teen age girl finds herself magically transported into this secret universe, she must band together with a rag-tag team of fun and whimsical characters in order to save their world... and ours.
Official Site
Trailer
---
Fast & Furious 6
PG-13
for intense sequences of violence and action and mayhem throughout, some sexuality and language

Vin Diesel , Paul Walker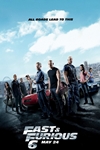 Since Dom and Brian's Rio heist toppled a kingpin's empire and left their crew with $100 million, our heroes have scattered across the globe. But their inability to return home and living forever on the lam have left their lives incomplete.
Meanwhile, Hobbs has been tracking an organization of lethally skilled mercenary drivers across 12 countries, whose mastermind is aided by a ruthless second-in-command revealed to be the love Dom thought was dead, Letty. The only way to stop the criminal outfit is to outmatch them at street level, so Hobbs asks Dom to assemble his elite team in London. Payment? Full pardons for all of them so they can return home and make their families whole again.
Official Site
Trailer
---
Monsters University
G
Billy Crystal , John Goodman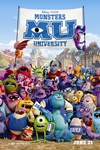 Ever since college-bound Mike Wazowski was a little monster, he has dreamed of becoming a Scarer-and he knows better than anyone that the best Scarers come from Monsters University (MU). But during his first semester at MU, Mike's plans are derailed when he crosses paths with hotshot James P. Sullivan, "Sulley", a natural-born Scarer. The pair's out-of-control competitive spirit gets them both kicked out of the University's elite Scare Program. To make matters worse, they realize they will have to work together, along with an odd bunch of misfit monsters, if they ever hope to make things right.
Official Site
Trailer
---
White House Down
NR
Channing Tatum , Maggie Gyllenhaal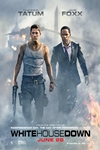 Capitol Policeman John Cale has just been denied his dream job with the Secret Service of protecting President James Sawyer. Not wanting to let down his little girl with the news, he takes her on a tour of the White House, when the complex is overtaken by a heavily armed paramilitary group. Now, with the nation's government falling into chaos and time running out, it's up to Cale to save the president, his daughter, and the country.
Official Site
Trailer
---
Despicable Me 2
PG
for rude humor and mild action

Steve Carell , Kristen Wiig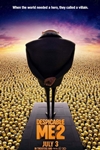 Chris Meledandri and his acclaimed filmmaking team create an all-new comedy animated adventure featuring the return of Gru, the girls, the unpredictably hilarious minions...and a host of new and outrageously funny characters.
Official Site
Trailer
---
Kevin Hart: Let Me Explain
R
for pervasive language including sexual references

Kevin Hart ,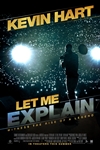 "Kevin Hart: Let Me Explain" captures the laughter, energy and mayhem from Hart's 2012 "Let Me Explain" concert tour, which spanned 10 countries and 80 cities, and generated over $32 million in ticket sales.
Official Site
Trailer
---